Fullmetal Alchemist: Brotherhood
MY TOP 5 ANIME – #2: Fullmetal Alchemist: Brotherhood
This is one of the few anime I saw after watching Steins; Gate and was not disappointed whatsoever. Having moved so quickly to a different anime style, Fullmetal Alchemist: Brotherhood didn't feel alien to me, in fact, I fit right in.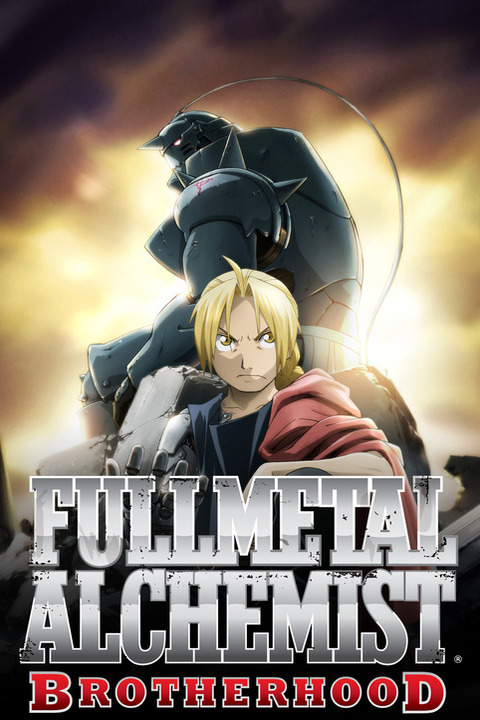 The main characters of Fullmetal Alchemist: Brotherhood are the Elric brothers, Alphonse and Edward. The writers do a great job of making these characters very likeable and friendly. There are also plenty of interesting and unique characters added throughout the show that make it vibrant with different personas sprinkled into the mix.
When the Elric brothers lose their mother to an incurable disease, they decide to try a taboo from of Alchemy in hopes to revive her. They do not realize the grave consequences of their actions. Their experiment results in Alphonse losing his body and Edward losing a limb. With the aim of trying to get their bodies back, the brothers must find a magical item that can restore their bodies. This isn't easy when danger comes knocking at their door.
I can safely say that Fullmetal Alchemist: Brotherhood is the best action anime I have seen so far. It definitely satisfies with its charm and fight sequences. All the animations are done very well. They do not skip animations by moving to a wide angle, in fact, they keep your full attention on the characters at all times. This is why I put this anime up for number 2.
Should I watch it in Dubbed or Subbed?
Definitely a close call, but i think this is totally up to your personal preference as both languages have a range of talent that represent the characters well and true.
[Check out #5, #4 and #3 on my Top 5 Anime list]
Please do bear in mind, that I new to anime so I have not seen a lot of them. If your favourite is not on the list or you disagree with this list, then put your own opinions/ recommendations in the comment section, as well as my blog post here, as I would love to watch, what you guys like to watch!